Designed originally for transporting troops and equipment to war zones, the C-130 Hercules aircraft has been used for civilian and military applications around the globe. Of course, some of its most notable uses stem from its role in U.S. military might since its inception.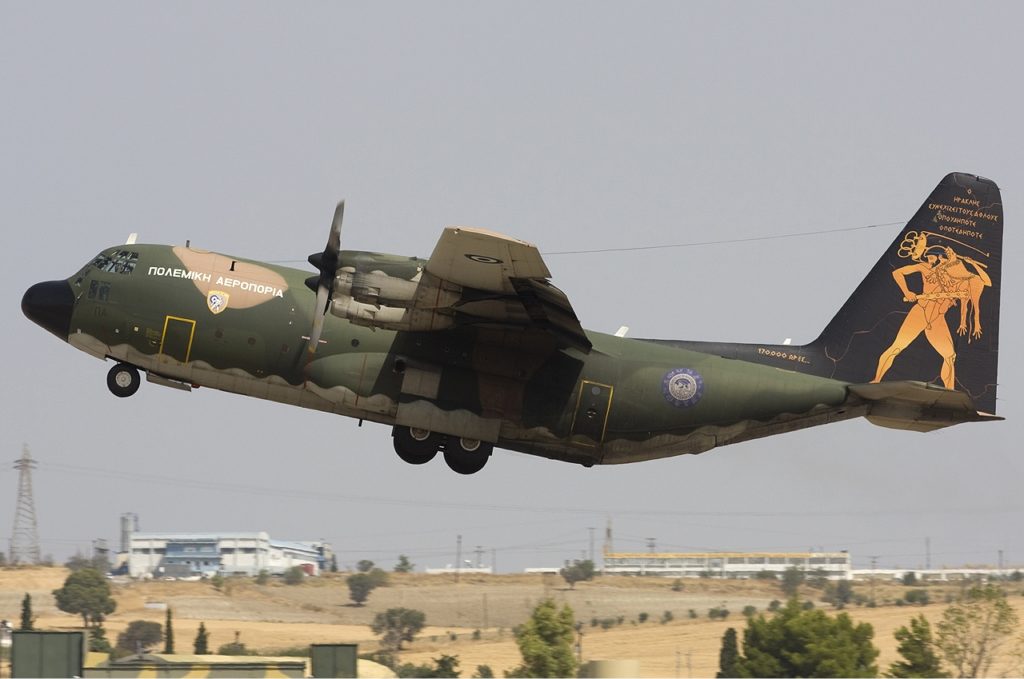 However, the versatility, fuel efficiency, and advanced technology have made the "Herc" an ideal choice for foreign Air Forces on nearly every continent, including the following.
North America
Canada operates 17 C-130 aircraft, and Mexico has a total of 11 C-130s, including two C-130J models.
Honduras also uses the C-130, but exact aircraft numbers remain unknown.
The United States leads the pack with nearly 100 C-130 Hercules aircraft. The C130s are used for rescue missions, for training, logistics operations, refuelers, special ops and a few others. Here is the breakdown:

United States Air Force operates 54
The United States Air National Gaurd has 26
The United States Coast Guard flies 6
The United States Marine Corps also has 6
And finally the United States Navy flies 8
Africa
The Algerian Air Force maintains 19 transports via the C-130.
Botswana, Cameroon, Ethiopia, Gabon, Niger, Sudan, Tunisia and Zambia use the C-130 for Air Force operations, but an exact number of aircraft in use is unknown.
In Cairo West Airport, the Egyptian Air Force operates three C-130s.
Libya currently uses four C-130s.
The Royal Moroccan Air Force operates C-130 transports out of Rabat.
The Nigerian Air Force maintains two C-130 aircraft, including one C-130H and one C-130H-30
South Africa's Air Force 28th Squadron uses the C-130 at AFB Waterkloof, Pretoria.
Asia
Bangladesh has four C-130Bs based out of BAF Base Bashar in Dhaka Cantonment.
The Republic of China Air Force has 19 C-130H models and one C-130HE.
India has a total of 12 C-130J aircraft, even though all C-130 operations only began in 2011.
The Indonesia TNI-AU maintains 26 aircraft at Skadron Udara 17, 31 and 32.
The Islamic Republic of Iran Air Force uses a C-130E and a C-130H in their operations.
The 23rd Squadron in the Iraqi Air Force operates six C-130 aircraft, including six C-130J models.
The Israel Air Force has two C-130E models at the 103rd and 131st Squadrons at Nevatim.
The Japan Air Self-Defense Force and Japan Maritime Self-Defense Force operates 16 C-130 Aircraft.
The Royal Jordanian Air Force operates seven C-130H models, and some of the Air Force's older C-130B models have been converted to other configurations.
The Royal Malaysian Air Force and Pakistan Air Force and Philippine Air Force each maintain three C-130 aircraft.
The Royal Air Force of Oman uses one C-130H at Seeb.
Qatar Emiri Air Force currently has four C-130Js in use.
The Royal Saudi Air Force has six C-130 aircraft in the 1st, 4th, 16th and 32nd Squadrons.
The Republic of Singapore Air Force's 122nd Squadron uses 10 C-130 aircraft.
South Korea, Sri Lanka, and the Royal Thai Air Force operate one C-130.
South Vietnam no longer uses the C-130, but in 1972, the country had up to 32 C-130As in operation.
Both the United Arab Emirates and Yemen use the C-130 in Air Force operations.
Europe
The Austrian Air Force and Portuguese Air Force each maintain one C-130.
The 15th Wing of the Belgian Air Component operates 11 C-130H models.
Bulgaria's Air Force uses three C-130K, three C-130E and Three KC-130T aircraft.
Denmark currently has four C-130J models at Aalborg.
France operates the Franche-Comte, including two C-130H models at Orleans Bricy Air Base.
Greece has 15 C-130 aircraft in use.
Italy maintains 22 C-130J models.
The Netherlands and Norway each operate four C-130 Hercules aircraft.
The Polish Air Force uses 14 C-130 models in total.
Romania has four C-130B models and one C-130H available for use.
Spain has two C-130 aircraft at Zaragoza.
Sweden operates three C-130 aircraft, and Turkey maintains 14 aircraft.
The United Kingdom's Royal Air Force uses the C-130 at Brize Norton and for Air Force meteorological research.
South America
Argentina's 1st Air Brigade uses three C-130B, five C-130H and two KC0130H aircraft.
Bolivia's Air Force maintains a total of seven C-130 transports.
The Brazilian Air Force has 21 C-130Ms in use due to upgrades by the company, Derco.
Chile uses three C-130 aircraft, and the Colombian Air Force uses one for Air Command for Military Transportation.
Ecuador, Peru and Venezuela use the C-130 in Air Force operations, but a lack of records results in an unknown number of currently active aircraft.
Oceania
The Royal Australian Air Force and Country Fire Authority, part of Australia's military, operate C-130s, but an exact number is unknown.
Final Thoughts
The C-130 Hercules aircraft changed the world's view on standard Air Force equipment, and while it has fallen into museums as the history of some countries' Air Forces, it continues to be an integral part of modern Air Force capabilities. Only time will tell how truly expansive the use of future generations of the C-130 will become, but continued maintenance will take the C-130 deep into this century.
Sources